School Uniform
Our students are excellent ambassadors for the school, and show a sense of pride in being members of it. This sense of belonging is reflected in the wearing of school uniform, the details of which are in the links below.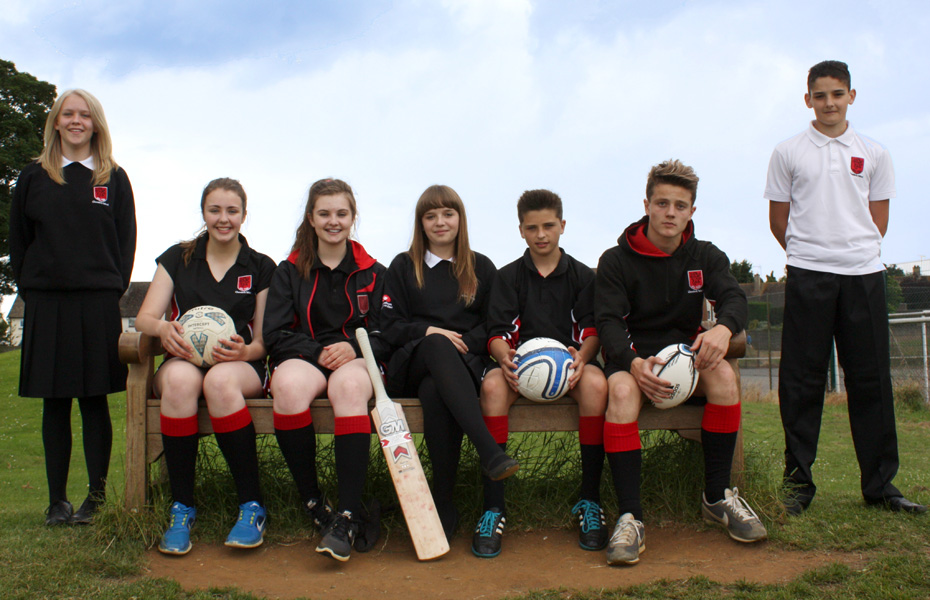 Chenderit School Uniform and Dress Code
Cross Embroidery – Important Information
All orders will be treated as first come, first served. We would encourage all parents and carers to place their order as soon as possible to ensure prompt delivery of uniforms. We cannot guarantee that orders placed during August, for example, will be fulfilled in time for the new term.
New Starter Appointments
Starting a new school is an exciting transition for all involved. Our aim is to provide a swift and stress-free experience for parents, carers and students. Having used an appointment system in 2021 we have found this allowed us to guide our customers more easily through the uniform purchasing process during a one-to-one fitting, ensuring you only buy what you need, allowing you to top-up later, as and when you require. We would like to offer new starters the opportunity to try on all required uniform within a 20 minute time slot, by appointment. We have set these appointments exclusively for students starting at new schools. We advise booking your appointment as soon as possible to ensure we are able to supply key items of uniform and to avoid any disappointment that may occur with orders placed after July.
Existing Student Appointments
For new school uniform for the beginning of September, we will be offering appointments to students in year 8 and above from July. You can also place a click and collect order via our website. However, when collecting your click and collect order, items must be taken off site and tried on at home.
In order to visit the store for a fitting, parents and carers must book in advance, via our online booking system.
Please book 1 appointment per child
As we approach the busy summer season, we would ask customers to make sure that time slots are not missed. Should you need to cancel and rebook your appointment, please contact us.
We accept returns and offer refunds if tags are kept on the items purchased and they are in a saleable condition.
Unfortunately, at the current time, there is no customer parking available. This is a temporary measure, taken to give customers a safe and distanced place to queue.
Supply Chain Challenges
The school uniform retail sector has suffered with supply issues during the last 12 months and this may continue this year; however, please be reassured that the whole supply chain is working very hard to minimise any disruption.
Opening Times
Monday 9am-5pm
Tuesday 9am-5pm
Wednesday 9am-5pm
Thursday 9am-5pm
Friday 9am-5pm
Saturday 9.30am – 1.30pm
Contact details
T: 01295 270555
Unit 5&6 Lower Cherwell Street Banbury, OX16 5AY
Other Information
Every effort has been made to ensure that the cost of our uniform is reasonable, but if you are in severe difficulties please contact the school: any such approach will be treated in strictest confidence.
We have some second hand and nearly new uniform available for students. Please e-mail uniform@chenderit.net with your requirements and sizes. We will be pleased to advise you about current availability and condition, and a suggested donation.
Please note that while school trousers are now available to order from our uniform supplier, Cross Embroidery, parents may choose to purchase trousers from other providers if they wish, as long as they comply with the school uniform and dress code. The school skirt must be purchased from Cross Embroidery.
School Uniform is ordered directly from our supplier, Cross Embroidery.
Click here for Cross Embroidery's Website
Queries regarding orders should be directed to Cross Embroidery via the on-line contact form on their website, or on Customer Support: 0870 165 0161 Mon-Fri: 8.30am-5pm
Other uniform related enquiries can be made by submitting a query through the form on the 'Contact Us' page here.
Labelling clothing and possessions
All items of school uniform, including shoes, trainers, PE kit and bags must be clearly named, to help us re-unite them with their owners when miss-placed.
We have recently introduced several initiatives to help with this:
Order Stikins labels and the school receives fundraising commission on your purchase (quote code 4138) No sewing or ironing, suitable for clothing and personal items.
Laundry pens now available from the Lost Property Office for 50p
Easy2name labels have a wide selection of stick on, iron-on, and sew-on labels and transfers. We receive commission on sales – be sure to add 'CHENDERIT SCHOOL OX17' at the checkout.